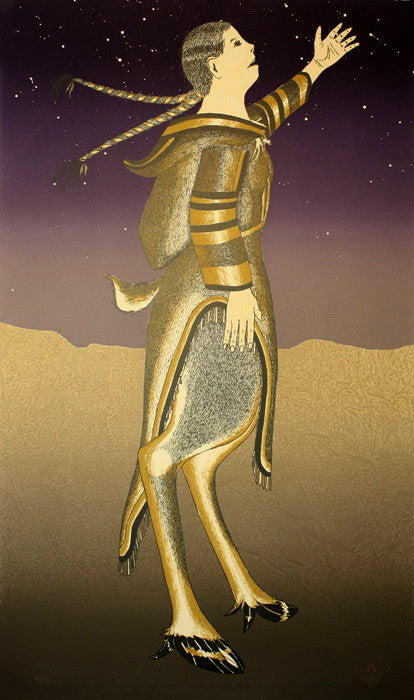 Cape Dorset graphic artists
2000 CARIBOU WOMAN by Arnaqu Ashevak
Arnaqu Ashevak
CARIBOU WOMAN
Lithograph 2000
87.4 x 51.1 cm
Released in the 2000 collection
Dorset ID#: 00-01
Arnaqu Ashevak (1956-2009)
Community: Cape Dorset
Arnaqu was an adopted son of the famous Inuit graphic artists Kenojuak Ashevak and Johnniebo Ashevak.
Ashevak started as a carver, in the 1980s, and was awarded a grant by the Inuit Art Foundation for a five-week artistic residency at the Banff Centre for the Arts in 1991.
In 1992, he won a second scholarship, this time to attend a three-week workshop at the Carving Studio and Sculpture Center in West Rutland, Vt.
In the 2000 annual Cape Dorset print collection Arnaqu was represented by one lithograph entitled Caribou Woman (dorset id:00-01), which was drawn directly on the lithography plates and printed by Pitseolak Niviaqsi.
---
Share this Product
---
More from this collection